About Us
Mark Stein
With a finance education from the George Washington University School of Business in 1990, and subsequent professional service experience as a foundation, Mark entered the management consulting industry in 1995, and has since led hundreds of corporate strategy, investment analysis and organization development engagements for leading multi-national corporations. Today Mark is a partner at GRAPH Strategy - a specialist strategy consulting firm that supports Private Equity and the Corp Strategy professionals assess growth opportunities and conduct commercial due diligence for potential acquisitions. Mark is married with three daughters, and lives outside of Washington DC.
Lillith Christiansen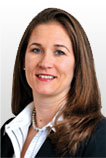 Lilith Christiansen has 15 years of organization development consulting experience with Kaiser Associates and Booz Allen Hamilton and is today Vice President, Onboarding Solutions at SilkRoad. Lilith has led numerous organizational improvement and employee programs redesign projects for clients in both public and private sectors. Lilith is a graduate of University of Virginia and University of Pennsylvania's Wharton School of Business. Lilith is married, has a son and a daughter, and lives in Arlington, VA.
Contact Lilith for additional insight behind the ideas and experiences presented in Onboarding Margin.